Lapstick travel guitar news
Big little changes: new custom made pick up and preamp are coming online
We have had some big changes with the Lapstick project recently. I am happy to say that they are all positive.
custom made pickup
I have received the first shipments of a new pickup which is custom made for the Lapstick. Check the "Custom made pickup" topic on this forum for more details.
first installed new preamp
After many months of design and testing the new preamp has finally started to come online. Several instruments have already been sent out with this unit and the response is very positive. I am really excited about this unit. Like all the Lapstick hardware it has been necessary to custom design a part in order to achieve the maximum of function is the minimum of space. More details on this design breakthrough are on this forum (topic "New Preamp comes online"). All instruments are being shipped with this unit as standard from now on.
Our new forum accepts youtube videos
Due to repeated spam attacks, we have replaced the old external forum with the new internal Lapstick travel guitar forum. We are still working on the recovery of the old posts. However, a new function has been added: you may now post your youtube videos about the lapstick!
Our new YouTube channel lapsticktravelguitar
Lapstick has a new YouTube channel: lapsticktravelguitar!
Mike Stern with Lapstick travel guitar
Update : October 2010
We had a chance to sit down with Mike Stern and ask him his opinion on the Lapstick. For this session we build Mike a Lapstick with Maple fingerboard with chromed hardware in tangerine color with a standard configuration.

Watch the interview with Mike Stern
Message from the roof of the world.
Hello Phil,
I have been busy preparing for Everest however, I wanted to share these photos with you as I am quite enamoured with this fine instrument. As an international mountain guide it's a challenge to able to practice on the road and in the mountains. Your creation has enable me to enjoy playing in even the most remote regions on the planet. The rugged compactness of the Lapstick naturally lends itself to my lifestyle. And the Lapstick's wonderful tone is a joy to share with others.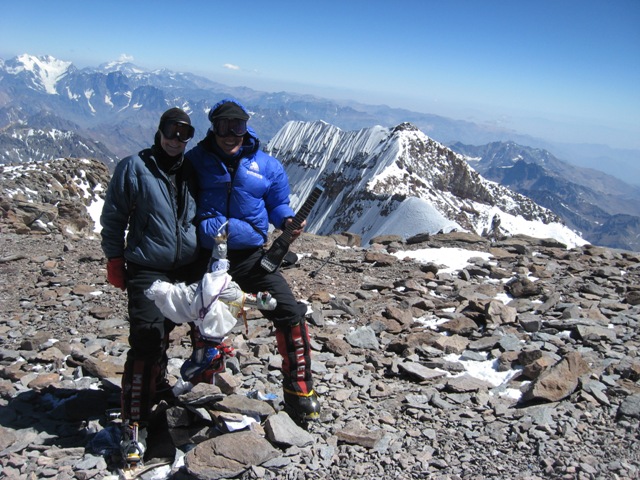 To The Summit,
Vern Tejas
PS Aconcagua, over 22,850 ft. (nearly 7000m.) is the highest mountain in the Western Hemisphere